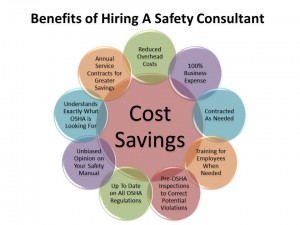 As per OSHA, most companies must provide a safe work environment for all of their employees. Unfortunately most construction companies laid off their safety department due to lack of work within the last 2 years. Now that construction seems to be picking up a bit, the question is should you hire a full time person again or go with a consultant? What's better for your bottom line?
Reduced Overhead Costs
No longer will you have to pay for employment taxes, benefits, equipment and space when you hire a consultant!
100% Business Expense
That's right – it's tax deductible!
Contracted As Needed
Whether you are looking for someone to visit your construction or film sites on a frequent basis (once a week) or as needed (maybe once a month or even once a quarter) having a consultant on a contract basis can be cost effective.
Training for Employees When Needed
Sometimes a company can hire a full time safety person though that person is so busy with day to day dealings with the sites, scheduling required and needed training is almost impossible let alone creating a training program which is relevant to your company. It is also possible to have a safety person without the proper authorizations to give out training cards. Having an Authorized OSHA training safety consultant tailor training programs to suit your needs is a better practice and it will take the burden off your safety person allowing them to focus on more important needs.
Pre-OSHA Inspections to Correct Potential Violations
A safety consultant will never be bogged down by your company's internal affairs, they won't be influenced by your past safety records and they will certainly not alter reports just to make the company look better. A safety consultant usually has a fresh approach to help your company save money through recommendations or implementation of new ideas to ensure compliance before OSHA comes to visit. Remember, planning is a lot easier than clean up!
Up to Date on All OSHA Regulations
Safety consultants attend seminars, meet with industry leaders and attend continuing education classes all the time – it's their full time job! Most companies today don't have the necessary funds available to send one employee to training classes numerous times a year.
Annual Service Contracts For Greater Savings
Sign up with us for a year contract or on a retainer basis for discounts up to 25% (does not include travel expenses)